Westmount Mag previews Geordie's holiday gala fundraiser production, The Trials of Robin Hood: "See some of Montreal's most celebrated legal and business leaders performing on stage – all in support of one of Canada's leading companies for Theatre for Young Audiences."
Read on WestmountMag.ca: Geordie Theatre presents The Trials of Robin Hood
***
Geordie Theatre presents
The Trials of Robin Hood
LUSTY HERO, HOPELESS LOVER, OR EVIL CRIMINAL: WILL THE REAL PRINCE OF THIEVES PLEASE STAND UP!
Kick off the holiday season by supporting Geordie Theatre's annual holiday fundraiser with a comedic spin on the classic tale: The Trials of Robin Hood.
Robin Hood: lusty hero, hopeless lover, or evil criminal? Told from the perspectives of Maid Marian, the Sheriff of Nottingham and Robin himself, this hilarious telling combines three different versions into one, with three different endings, leaving it up to the audience to chose which one is true!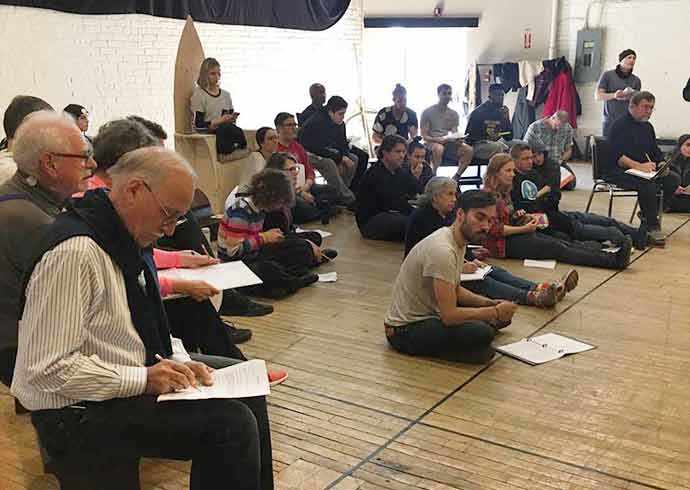 Co-directors Mike Payette and Jessica Abdallah, along with a cast of 38 actors, bring you the comedic story of King Richard (played by the Honourable Jean-Francois Buffoni– Justice of the Superior Court of Quebec) who, upon his return from the Crusades, attempts to figure out what happened in his kingdom during his absence.
Kick off the holiday season by supporting Geordie Theatre's annual holiday fundraiser with a comedic spin on the classic tale: The Trials of Robin Hood.
Join one of three audiences and decide the verdict to determine which of the three different endings will be performed! See some of Montreal's most celebrated legal and business leaders performing on stage – all in support of one of Canada's leading companies for Theatre for Young Audiences – on December 7 and 8, 2018.
Each performance is followed by a cocktail and catered reception which includes a silent auction and a raffle where patrons can bid on a choice of holiday gift items and win a trip to anywhere Air Canada flies in North America including Hawaii and the Caribbean! Proceeds help Geordie Theatre continue to bring its annual 2Play School Tour, Canada's longest running and furthest reaching annual theatre tour, to children across Eastern Canada, present its Mainstage Series to families here in Montreal each season and run its Geordie Theatre School.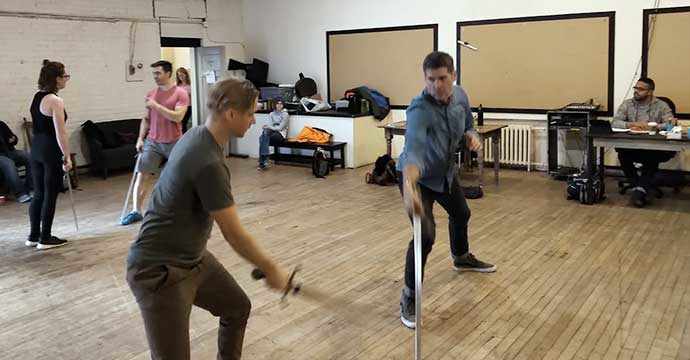 "Over the past few months, almost forty members from the law, business, medical and education communities have volunteered their time in support of Geordie Theatre, dedicating numerous hours to rehearsals, learning fight choreography and spreading the word about the gala fundraiser show. After so much hard work, we are very excited to share this wonderfully comedic and entertaining story with our audiences – new and returning – and are grateful for all their support."­­­
– Co-Director and Geordie Theatre's Artistic Associate, Jessica Abdallah.
THE TRIALS OF ROBIN HOOD
Written by Will Averill
Produced by special arrangement with Playscripts, Inc.
Directed by Mike Payette and Jessica Abdallah
Starring
Rebecca Allsopp, Keanu Ikete Bokana, Trevor Botkin, Sébastien Boyer, Jean-François Buffoni, Gérald Cadet, Pepita Capriolo, Ravshan Clark-Nurulla, Hollis Crosby, Jason Cutler, Morgan Doke, Nick Doyon, Caleigh Duff, Kayll Duff, Keira Duff, Jennifer Gann, Nicolas Gautier, Beatrix Hooton, Brett Hooton, Kate Hooton, Marie Christine Kirouack, Patricia Mannessy, Sterling Mawhinney, Peter McCusker, Madeleine McTavish, Wilson Menary, Lindsay Milner, David Morris, John Morris, Simon Pelletier, Lindsay Petts, Aidan Raza, John Raza, Laura Semaan, Ariane Sheshbaradaran, Lia Sheshbaradaran, Doug Sweet, and Aline Zafirian.
Set, Lighting & Costume Design: Sabrina Miller
Lighting Design: Audrey-Anne Bouchard
Sound Design: Troy Slocum
Fight Coordinators: Samantha Bitonti & Simon Pelletier
Assistant Set, Props & Costume Design: Elisabeth de Medeiros
Stage Manager: Mélanie Ermel
Production Manager: Amy-Susie Bradford
Technical Director: Ted Stafford
Assistant Stage Managers: Haylee Tucker & Mathieu Roy

Performances: December 7th at 7 pm and December 8th at 2 pm and 7 pm
Venue: D.B. Clarke Theatre, Concordia University Hall Building,1455 de Maisonneuve W, Montreal
Tickets: $25 children, $100 adults, $225 Family 3-4 Pack, $250 Family 5-6 Pack
Age recommendation: Ages 7+ | 90 minutes (including intermission)
Box Office and information: 514 845-9810 or www.geordie.ca
All tickets include après-show cocktail and canapés reception, silent auction, raffle and a charitable tax receipt. Tax receipt issued for adult and Family Pack tickets only.
Images: Geordie Theatre