Westmount Mag's Byron Toben reviews The Trials of Robin Hood, a gala fundraiser production: "The actors were not professional thespians […] Nevertheless, their final results were excellent. Not a weak link amongst them."
Read on WestmountMag.ca: Robin Hood on trial three times at Geordie show
***
AUDIENCE GETS TO SELECT OUTCOME AT 38TH ANNUAL GEORDIE THEATRE GALA FUNDRAISER
By Byron Toben
For a (probably) fictional character, Robin Hood has been replicated many a time on screen and television.
I count about 89 productions from the silent film days until now. (The 1938 movie featuring Errol Flynn is still considered the best of the lot.)
However, there are surprisingly few live stage versions. Montréal's own Geordie Theatre selected one of these – The Trials of Robin Hood – as the one to see at its annual gala fundraiser, celebrating its 38th year of existence since created by its first Artistic Director, Elsa Bolam, in 1980.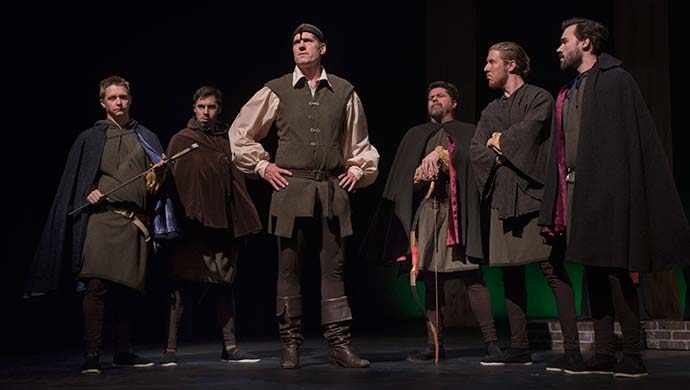 Current Artistic Director Mike Payette again showed his skill in managing a large cast (38 actors) in a fast paced script. Here he was aided by co-director Jessica Abdallah. Another 20 technical and other creative folk contributed as part of the creative team.
It should be stressed that the actors were not professional thespians, as in many of Geordie's regular season shows. They were supporters, members of the board, parents of children students and the like. Nevertheless, their final results were excellent. Not a weak link amongst them.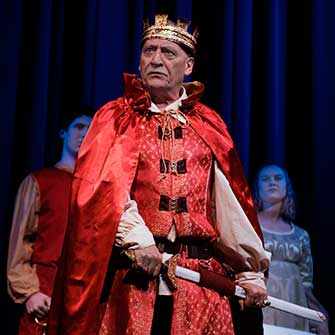 For the tiny percentage who know not the legend of Robin Hood, a quick summary. King Richard the Lion hearted (great grand son of William the Conqueror) who spent most of his life fighting in the Crusades or living in France, had appointed his younger brother, Prince John, to rule in his stead during his absence.
John oppressed the people, leading Robin Hood to gather his "merry men" followers to steal from the rich and redistribute the money among the poor, all the while trying to free his love, Maid Marian, from her entrapment in the royal castle.
Playwright Will Averill's script, shades of Rashoman, depicts the returned King Richard judging Robin's exploits as told by Robin, then by Maid Marian, finally by Prince John. Was Robin a hero, a lovelorn sap, or just plain mean? The audience gets to select at the end.
SOME CAST HIGHLIGHTS
Elementary school child Beatrix Hooten was particularly popular with the children in the audience in playing the part of the King's deer, arrow shot by illegal poachers and being slung over their shoulders to be carted off… three times!
Her mother, Kate Hooten, starred in the role of Maid Marian.
Dad Brett Hooten, the new president of the Board of directors of Geordie, filled in as Robin's buddy, Will Scarlett.
Outgoing President John Raza, also contributed as Much, the Miller's son, robbed by Prince John.
Jason Cutler was an appropriately tricky bad guy as Prince John, while Jean-Francois Buffoni adjudicated as the returned King Richard.
There were three Robins, Trevor Botkin (the hero), Nick Doyan (the lovelorn) and John Morris (the silly).
Robin's foe, the Sheriff of Nottingham was Pepita Capriolo, while his famous friends Little John and Friar Tuck were, respectively, Peter McCusker and Sterling Mawhinney.
Lots of well timed sword and stick fighting so creds to fight co-ordinators Samantha Bitonti and Simon Pelletier.
After long applause from the near full house in the 387-seat venue, tasty hors d'oeuvres were served in the lobby and spirited drinks available.
Over two-dozen volunteers helped out with seating and a silent auction. Recent META award winner as unsung hero of local theatre, James Douglas, was seen at the cloakroom and former Freestanding Room administrator Jen Quinn peddled raffle tickets.
Among the 23 items donated to the silent raffle were sports and theatre tickets, dinner and hotel stays, grooming and clothing choices. I had my eye on an Aislin original cartoon (Donald Trump as Donald Duck), but lowball me was quickly outbid by many others.
The Trials of Robin Hood annual Geordie theatre fundraiser was shown at Concordia's D.B. Clarke on February 7 and 8.
For future productions, visit geordie.ca
Images: courtesy of Geordie Theatre